Jay A. Terry LMT, CNMT
Jay began his training at the prestigious Swedish Insitute in New York City. Shortly thereafter he moved back to his native city in Jacksonville, Florida and enrolled in the Southeastern School of Neuromuscular and Massage Therapy under the guidance of co-founder Kyle C. Wright, a nationally recognized specialist in the treatment of soft-tissue injuries and postural distortions. Following graduation Jay was additionally certified in Eric Dalton's Advanced Myoskeletal Techniques® and the Paul St. John's Method. Prior to his chosen field he worked as a strength trainer helping athletes condition for exercise and athletic competition. It was during that period he began studying the negative side effects associated with high-impact sports, repetitive movements and issues associated with sedentary lifestyles.
Somawürks is the result!
Jay continues to study under some of the most influential leaders in neuromuscular and rehabilitative techniques, including James Waslaski (NMT, Active Release Technique®, Sports Rehabilitation), Aaron Mattes (Active Isolated Stretching®), and Rose Griscom (Institute of Thai Massage). He has worked with some of Jacksonville's most respected physical therapists, exercise physiologists, and orthopedic specialists. Jay has also lectured before numerous groups and organizations interested in noninvasive conservitive approaches to health. He has been a massage instructor for hospital wellness programs and since 2009 has worked with Baptist Medical Center - Rehabilitation OPC and MD Anderson (Jax), providing support for thier allied health professionals and surrounding communities. . Jay's integrative approach and advanced techniques are available by appointment only.
Where is Somawürks By Jay?
Somawürks by Jay is located in San Marco... a beautiful and historically significant neighborhood nestled on the south-bank of the St. Johns River and in the heart of Jacksonville, Florida. Please visit the Contact page for more information.
(After hours appointments require an additional $20 charge added.)
---
Recommended by Jay:
https://www.baptistjax.com/services/rehabilitation-services/massage-therapy - A medical and educationally based facility featuring state-of-the-art equipment and highly-skilled therapists to help individuals maintain physical rehabilitation. The Wellness Center utilizes physical therapy, massage therapy, exercise physiology, nursing, occupational and speech therapy.
Anytime Fitness - Lakewood Owners: Darrell and Brenda McKay. A professional exercise facility comprised of certified physical trainers, pilates instructors, and supportive health options.

Shirley Hartman, M.D. - A medical physician offering alternative medicine and nutritional education..
http://shawchirojax.com - A state-of-the-art chiropractic health facility based in a clinical and neuromuscular approach to well being.
New Clients
All new clients must complete a health intake prior to treatment. If you are receiving care under a doctor's supervision, please consult with your doctor prior to making an appointment with Jay.
Cancellation and Late Arrival Policy
Should you need to cancel or reschedule your appointment, please contact Jay no later than 24 hours in advance of your scheduled appointment. Respect for time is an important aspect of care to both the massage therapist and you. And because Jay offers treatment by appointment only, it is necessary to charge the full fee for any cancellation made within the 24 hours preceding the appointment. If you arrive late for your appointment, Jay will be pleased to fulfill the remaining time on your originally scheduled appointment. You will be responsible for the full scheduled session rate.
Reciepts:
Jay will provide a receipt for services rendered, in order to assist you in filing for reimbursement of your expenses.
Gift Certificates and Discounts
Gift certificates are available!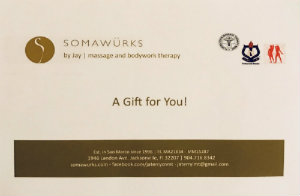 Credit Purchases:
Corporate or private purchased blocks of 5 or more - 1 hour massage sessions will receive a standard price reduction. And discounted rates are regularly offered during commonly recognized holidays.